HATFIELD, UK 10 July 2012 – Halaven® (eribulin), a novel treatment for patients with locally advanced or metastatic breast cancer who have progressed after at least two chemotherapeutic regimens for advanced disease, has recently received registration approval from the Israeli health authorities. Prior therapy should have included two common types of chemotherapy, an anthracycline and a taxane, unless patients were not suitable for these treatments.
Eribulin has been proven to significantly extend overall survival in patients with metastatic breast cancer, compared to other single agent chemotherapies.[i] Following marketing authorisation, Eisai and Neopharm group, its partner in Israel, plan to launch the product by the end of Eisai's financial year 2012 (31 March 2013).
Commenting on the launch of eribulin in Israel, Nick Butland, Regional Director MPBU, Eisai Europe Limited said, "The launch of eribulin in Israel will boost Eisai's geographical and patient reach in this region. Eisai's entry into this market is aligned with the company's wider strategy of increasing access to our medicines based on affordability, availability and adoption by making products available in new markets."
"We are excited about the opportunity to work with Eisai to introduce Halaven into this region", stated Mr. David Fuhrer, Chairman of the Neopharm Group. "Working in partnership means that together we can actively introduce innovative licensed products to meet the needs of the region and improve the health and quality of life of patients."
The Israeli launch of eribulin will allow access for women to a treatment not previously available to them and further supports Eisai's human health care (hhc) mission to satisfy unmet medical needs and contribute to the health and well being of people worldwide. Eisai is dedicated to discovering, developing and producing innovative oncology therapies that can help make a difference and impact the lives of patients and their families.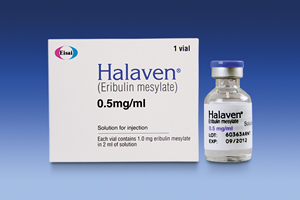 About Eisai
Eisai is one of the world's leading R&D-based pharmaceutical companies and has defined its corporate mission as "giving first thought to patients and their families and to increasing the benefits health care provides," which we call human health care (hhc). Eisai recently expanded their UK Hatfield facility which now supports the company's growing European, Middle Eastern, African and Russian (EMEA) business.
Eisai concentrates its R&D activities in three key areas:
Neuroscience, including: Alzheimer's disease, multiple sclerosis, neuropathic pain, epilepsy, depression
Oncology including: anticancer therapies; tumour regression, tumour suppression, antibodies, etc and supportive cancer therapies; pain relief, nausea
Vascular/Immunological reaction including: acute coronary syndrome, atherothrombotic disease, rheumatoid arthritis, psoriasis, Crohn's disease
With operations in the U.S., Asia, Europe and its domestic home market of Japan, Eisai employs more than 11,000 people worldwide. In Europe, Eisai undertakes sales and marketing operations in over 20 markets, including the United Kingdom, France, Germany, Italy, Spain, Switzerland, Sweden, Ireland, Austria, Denmark, Finland, Norway, Portugal, Iceland, Czech Republic, Slovakia, the Netherlands, Belgium, Luxembourg, Middle East and Russia.
For further information please visit our web site www.eisai.com
[i] Cortes J, O'Shaughnessy J, Loesch D, et al. Eribulin monotherapy versus treatment of physician's choice in patients with metastatic breast cancer (EMBRACE): a phase 3 open-label randomised study. The Lancet. 2011; 377: 914 -923